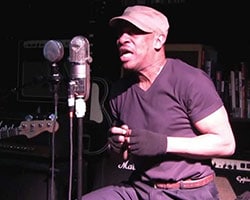 Keith "The Captain" Gamble
Guitar, Harmonica, Vocals
Websites:
Biography
Vocalist, guitarist, and harmonica player, Keith The Captain Gamble is a consummate performer whose talents are both exceptional and diverse. The Captain applies his many talents to film and theater, also as a guest artist, lecturer, and a guest instructor with various cultural and educational organizations.

The Captain holds a Bachelor of Fine Arts degree from the City College of NY. He has also performed in New York City venues e.g. B.B. King's, the Apollo Theater, St. Nick's Pub, Lenox Lounge, Londel's and appeared regularly with his band in Greenwich Village. The Captain was also a member of the first house band ever to perform on "The View".

Various tours include a three-nation European tour, the Middle East and US Embassy tours in six African nations. The Captain was commissioned by the US State Dep. to perform at the W.E.B. Dubois Center in Ghana, honoring the Inauguration of President Obama.
Content by Keith "The Captain" Gamble :
No products were found matching your selection.