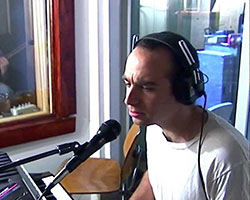 Ivan Rubenstein-Gillis
Singer/Songwriter, Producer, Multi-instrumentalist
Websites:
Biography
Ivan Rubenstein-Gillis has been playing music and writing songs since he was a child. To date he has recorded several hundred of his own songs (out of several thousand he has written). Over the past two decades Ivan has performed and recorded his own and others' material around the country, with some of the great sung and unsung rock, pop, jazz and folk musicians of our time. 2013 was a busy year! Ivan completed his most recent collection of 10 songs, "TYPOE" … He also produced legendary trombonist Roswell Rudd's, "Trombone For Lovers" (Sunnyside Records) as well as cabaret artist Lexy Casano's, "My Favorite Songs."

Childhood:
Born in Manhattan, grew up in small town New Jersey and in the Hudson Valley region of New York State. Leafy old farmland. Bullfrogs, crickets and pine needles. Dreamy, barefoot days of youth. Played piano by ear as a kid and started writing songs to keep self company, putting words and chord patterns together. Guitar in high school. Adolescent attempts at performing. Endless hours with the family record collection: Beatles, Dylan, African music, folk, rock, jazz, reggae, the singer-songwriter tradition. Exposure to great art & music through music biz aunt and sculptor uncle. Trailways bus into Manhattan & concerts at Soundscape. College … Years passed in the library and with headphones on. Allen Ginsberg! Richard Thompson! Nina Simone! Arthur Rimbaud! Concentrating really hard! Insomnia! Head nearly popped off!

Back To The City:
NYC in all its rugged & turbulent glory. The usual suspects … lust, greed, ambition, rice & beans. Eyes on the prize, hands to the wheel. Songs, songs, songs, midnight shows on the Lower East Side, albums, world music ensembles, album production, dance and theater composition, collaboration with great musicians on stage and in the studio. Guitar, piano, drums, bass, banjo, mandolin and vocals. And egg shaker. And hooter! Pedagogy: classes in rock, folk and blues history and performance, private lessons in guitar, performance and songwriting. Concert production: benefits and fundraisers. Gigs: Concerts, recitals, festivals, dance, comedy and theatrical events, city parks, bars, hotels, cafes, bed & breakfasts, restaurants, yoga studios, protests, parades, bar & bat mitzvahs, summer camps, schools, churches, synagogues, radio stations, documentary films, feature films, community gardens, train stations, bedrooms, weddings, house parties, etc.
Content by Ivan Rubenstein-Gillis :
No products were found matching your selection.