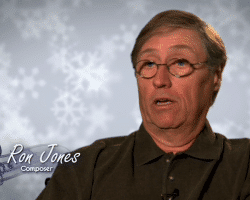 Ron Jones
Composer, Conductor, Educator
Websites:
Biography
For over 37 years, Ron Jones has dedicated himself to the art of craft of composing. Most of his creative work has involved scoring music for TV and Film projects, produced by both major Hollywood studios and independent productions companies. After getting his degree in music composition and music theory, Ron moved directly to Los Angeles, in order to study at the famous Dick Grove School of Music.

What attracted Ron's attention was that all the teachers were successful professional musicians, arrangers and composers who where actively involved in creating music for recording artist, TV and film and other real world music areas. Prior to graduation from Dick Groves, Ron started working as a composer for an NBC movie of the week and several network animated TV series, produced by Hanna-Barbera. Under the guidance and tutelage of Hanna-Barbera's music director, Hoyt Curtin (Flintstones, Jetsons and many more), Ron scored hundreds of episodes of Hanna-Barbera's popular animated series. Soon, Mr. Curtin called on Ron to arrange and eventually compose many of the main title themes, such as the Smurfs, Scooby-Doo, The Snorks and many more.

After five years, Ron was introduced to the very busy composing team of Mike Post and Pete Carpenter. During his time scoring for Post and Carpenter, Ron worked on such popular series as The A-Team, Magnum P.I., Hardcastle and McCormick, Riptide, Hunter and more. This phase of scoring work involved a wide variety of scoring styles with emphasis on fusing contemporary Rock and Pop elements into the scores, a hallmark of the Post/Carpenter sound. While working with Post/Carpenter, Ron continued scoring many low budget features, which gave him the opportunity to hone and develop his long form skills.

Chris Montan, head of Disney Music, happened to watch a session Ron was doing for an animated project. The score and how Ron crafted the cues impressed Chris. Chris asked what motivated this deeper level in the music. Ron replied, not knowing who Chris Montan was, that the main difference is that he respects the intelligence of the audience. Most composers at the time were playing down to the audience. Ron's approach took into account that a large percentage of the animated audience is actually adults.

Also, by designing the scores with respect for the intelligence of the audience, the shows themselves took on a broader appeal in that they were not patronizing. Soon after this random encounter, Chris Montan called and asked Ron to score the animated series, Duck Tales for Disney. Ron played the adventures of Huey, Louie, Dewey and Uncle Scrooge as a serious "Raiders of the Lost Ark" action/adventure show. This worked in a wonderful way against the comedy and wit of the stories. Duck Tales has been one of the most successful animated series of all time and still plays to a large worldwide audience. After Duck Tales, Ron worked on the first four seasons of Paramount's smash hit series, Star Trek: The Next Generation. Scoring Star Trek: The Next Generation offered a perfect opportunity for Ron to use all the skills acquired from the animation, live action series and independent features. Each episode was looked at like a separate feature, rather than a serial with repeated ideas. ST:TNG was really like a Wagnerian super opera. Each episode had it's own unique orchestral palette and themes. There were highly organized and compositionally developed themes and motifs, which related to the Star Fleet crew as well as the various life forms they encountered in their exploration of the universe. Ron further developed the Star Trek music in his scores for the groundbreaking computer games StarFleet Academy and StarFleet Command. These games were the first to use a full studio orchestra for the score.StarFleet Academy won the best score award from the Academy of Interactive Arts and Sciences.

Ron continued his animation scoring by doing several animation shorts for upcoming creative Producers at Hanna-Barbera and Nickelodeon. Ron's theme for Butch Hartman's Fairly Oddparents series won BMI's TV and Film award for being the most performed theme on Television for an amazing three years in a row (2002-2004). Ron also worked with one of the great young talents, Seth MacFarlane, with whom he had also scored some of his first projects for Hanna-Barbera. Seth took a chance and developed a new series for Fox, called Family Guy. Ron scored the pilot and the series has gone on to become a worldwide hit.
Not only has Family Guy become hugely successful as both a first run and syndicated series, it has topped the charts in home DVD sales, out selling many of the top feature films. Also, Family Guy is one of the most popular iTunes downloads, usually in the top 10 weekly. Ron has been pushed to create nearly every possible musical style and genre of scoring during his years working onFamily Guy. From Broadway parodies, jazz, pop, contemporary grooves and songs to serious orchestral underscore, which rival anything on TV and surpasses many feature scores. Ron also scored another of MacFarlane's series, American Dad, which is also on Fox.

Currently, Ron has expanded his musical exploration by forming the Influence Jazz Orchestra. The group is made up of the most elite session and jazz players in Los Angeles. This ensemble was formed out of a desire to share with live audiences the incredible and amazing studio musicians Ron calls to record his TV scores. Influence has performed at many of the top Jazz Clubs and concert venues to sold out audiences. The band performs new works by Ron, as well as the best charts written for Jazz Ensemble. Many performances feature Seth MacFarlane of Family Guy, singing his favorite classic Sinatra songs as arranged by Nelson Riddle, Billy May and more. Influence is involved in concerts of film and TV music as well as cutting edge Jazz.

Ron Jones has taught and guest lectured in the US and Europe at colleges, University's and Conferences. Ron is very interested in teaching and sharing his professional insights with the new generation of composers.

Ron is driven to learn and grow, both with his music and in his life. He is proud of his accomplishments and the over 20,000 compositions he has created so far. He looks forward to the next level of creative challenges with excitement and eagerness.

Ron owes everything to his wife, Laree, for all of her wonderful support and love. Ron is very proud of their son, Nathan, and look forward to all he will be and do in his life.

When not scoring, Ron enjoys hiking in the mountains and landscape photography.

Ron composes for orchestras, jazz groups, choirs, electronic, and a wide array of other music groups and styles with the goal of exploring the deeper side of music composition. He conducts all of his orchestral scoring sessions, the Influence Jazz Orchestra and he has guest-conducted orchestras in the U.S.