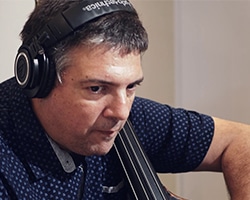 Biography
J.P.N. is considered by peers and by critics as one of the most important artists playing double bass in argentinian popular music . He was born in Avellaneda, Buenos Aires, in 1971. He got the Double-bass and Music Education Teacher degree at the "Conservatorio Provincial de Música Luis Gianneo". Later he studied double bass with Sergio Gugliota, Ricardo Planas, Oscar Carnero and Anthony Bianco; music structure with Fermina Casanova and Marcelo Perticone; and music composition with Diego Schissi. In the year 2000, he got the scholarship of the Antorchas Fundation, which allowed him to study at the Carnegie Mellon University in Pittsburg, USA. There, he performed as a principal bass at the Carnegie Mellon Philharmonic Orchestra, until april 2001. With this orchestra he performed at the Carnegie Hall. He also founded Tangocontempo (asociation to promote new Tango Music)
J.P Navarro has recorded and performed with very prestigious tango, folk, jazz and classical artists such as :
Joe Lovano, Richard Galliano, Mtro Horacio Salgán, Leopoldo Federico, Néstor Marconi,,Diego Schissi qto., Chango Spasiuk, Ubaldo DeLio, Quinteto Real, etc.
At 2011 he made a successfully presentation at The International Society of Bassists Convention, at San Francisco State University, San Francisco, California, the United States, he was sharing the stage with a gifted pianist Octavio Brunetti.
At 2013 On May He premiered Fantasía ContraPiazzollissimo, Music from Astor Piazzolla ,arranged By JPN for Solo Bass and String Orchestra with Orquesta Sinfonica de Mar Del Plata,conducted By Mtro Emir .
He toured in China with Richard Galliano quintet on November 2017.JPN did Tangos de la Posverdad Tour with his Sextet, on the last may 2019 in Europe.They played at Bozar, Bruxelles, De Doelen Theatre, Rotterdam, Le Triton, Paris, Festival Tango Fatal in Holland .Also He taught Masterclass at Conservatoire de Gennevilliers, Paris , University of Arts Zurich , ISB convention at San Francisco University ,CODARTS ,Holland and many others.
His last work Los Dopados-La Música de Juan Carlos Cobian it has nominated as a best live album of the year by the Carlos Gardel awards.