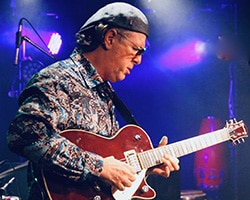 Mordy Ferber
Guitar
Websites:
Biography
Mordy Ferber is an exquisite jazz musician whose compositions and performances have brought jazz into the 21st century.  He effortlessly blends intricate melodies with stunning guitar-playing and musicianship and most importantly has developed a sound of his own. In a recent book by journalist and Jazz Historian Scott Yanow, Mordy was included in the list of 350 of the greatest Jazz Guitarists of all time in the book "The Great Jazz Guitarists: The Ultimate Guide".
At 23, Mordy was the first Israeli musician to receive a full scholarship to Berklee College of Music in Boston and immigrated to the United States. He graduated in 1987 with full honors and received the prestigious Jim Hall award for outstanding musicianship.
Mordy has thirty years of teaching experience at such prestigious institutions as  New York University, Berklee College of Music in Boston, the New School University, American Institute for Guitar and the Sam Ash Institute in New York City. He is highly sought after for his private instruction and has taught master classes in improvisation technique, harmony and composition all over the world.
Mordy is regularly commissioned to write music for television and film and his work has been used widely in shows such as the  Sopranos, Six Feet Under, Jack Ass, The Tonight Show with Jay Leno, The Guilty on HBO, Fresh Prince, Bay Watch, Felicity, Chris Rock Special on HBO, Everybody Loves Raymond, Veronica's Closet, the VH1 Fashion Award Show, the Grammy Awards promo, and on many others.
Mordy Ferber has performed and recorded with artists including  Michael Brecker, Jack DeJohnette, Eddie Gomez, Peter Erskine, Bob Mintzer, Dave Liebman, Miroslav Vitous, Jeff Berlin, Danny Gottlieb, Chester Thompson, Bob Moses, Richie Beirach, Richard Bona, George Garzone, Jack Bruce, Donny McCaslin, Will Lee, Larry Coryell, Adam Nussbaum, Billy Hart, Larry Graham, Bootsy Collins, Ranjit Barot and TM Stevens. 
He has recorded 5 albums as a leader on the Enja, Half Note and CBS Europe Record label.  Saxophonist David Liebman, describes notes "Mordy is a wonderful musician who digs deep in his writing and playing with a clear sense of communicating to the listener." Ferber has also received praise from iconic drummer Jack DeJohnette, "I love his sound and his feeling. He writes beautiful compositions. Mordy is committed to the highest level of quality and creativity. He is not afraid to take risks."
My most engraved Mordy Ferber memory as an improvising musician was when I heard him in California with Danny Gottlieb and Jeff Berlin. Mordy's playing was hard-edged, avant-garde, don't give-a damn-about convention, and rhythmically on fire. This is the spirit of what I like best about Mordy–he chooses hip scale-dissonance coupled with a rebellious freedom that reveals the pure joy of improvisation.
As A composer, Mordy shows another side, a more abstract, melodic, original, out-of -the-mainstream approach to jazz and that's the Mordy Ferber to whom no-one else can compare…
( Larry Coryell)
"On Reflection, Mordy Ferber has proven himself to be absolutely chameleonic on guitar, composing and playing pieces as varied and emotionally magnetic as the breadth of his experiences and talent allow."
(EJazz News)
"On Reflection, Mordy Ferber provides reason to make sure he's included in the lists of jazz guitarists who not only have developed sounds of their own through deep personal experience and technical mastery, but also who have shown sufficient compositional imagination to make their own statement."
jazz review
"Add Mordy Ferber to the list of notable guitarists in the jazz world today. This Israeli-born sensation displays readily apparent technical fortitude and, more importantly, a confident sense of when and how to flex his talent.  Ferber is a player of considerable promise who blends irreverent energies and an angular, dare we say European?, harmonic sense into an overall jazz sans frontiers."
( Jazziz)
"New York guitarist-composer, Mordy Ferber, is a powerful, contemporary guitarist with an attitude, energy, and a pluck all his own.  And with a batch of riveting originals and plenty of zing per string, Ferber is clearly his own man."
( Jazz Times)
"Ferber's Mr. X makes manifest his deep commitment and his firm attitudes towards his music. The compositional lines are strong; the ballads are fresh; and, the guitar work throughout is outstanding."
( The Jerusalem Post)
First guitar"Actually, I was heavily into rock and roll and was part of a band until I was about 17. We toured the country and did cover songs by Led Zeppelin, Jimi Hendrix, Cream, the Beatles, Santana and others, before I even knew about jazz. It was a lot of fun and I think of those days often. Then I heard the great gypsy jazz guitarist, Django Reinhardt, on the radio; that had a tremendous effect on me. He had great technique (using only two fingers!), humour and soul in his playing; I couldn't understand where it came from. I was determined to study him as much as I could. Being self-taught, I sat for hours every day transcribing his music and solos. Later, I did the same thing with other jazz guitar greats like Charlie Christian, Joe Pass, Wes Montgomery and Jim HalI. I eventually had an opportunity to perform Django's music for two weeks in France."

At the age of 18, Mordy joined the army, a three-year obligation of every Israeli citizen. The first two months were spent in combat training. He soon realized that if he wanted to play the guitar again, he would have to join an army band, regardless of the music, as long as it was a guitar and not a gun. For the rest of the two years and 10 months, he toured the country as part of the military's entertainment unit giving concerts to other soldiers in remote areas both inside and out of the country.

After the army, Mordy quickly became one of Israel's top musicians, performing on numerous records for CBS (Sony) with singers like Arik Ainstain, Shlomo Artzi, Shem Tov Levi, Shlomo Gronich, Miki Gavrielov And Norit Galron. and appearing regularly on radio and television shows. "It was great training for me, getting so much experience playing in many different styles. I even had the privilege of performing with the legendary Jerry Lewis. At the same time, I continued to work on jazz and developed as an improviser by myself during this period".