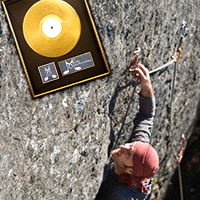 Famous Musicians Who Came Back From Failure or Adversity
I recently posted a few true stories on our Facebook page regarding famous musicians who came back from failure or adversity. Since the response was so positive, I've decided to gather some more inspirational factoids and throw them all in this blog post. Enjoy!
* In 1962 an obscure band from England made a demo tape for Decca Records in hopes of being signed. The label's senior A & R person said, "guitar groups are on their way out" and the band was rejected. This band was named The Beatles.
* In 1954, a young singer was kicked out of the Grand Ole Opry. They told him to stick to his day job driving trucks. He picked himself back up and kept trying. His name was Elvis Presley.
* In 1967, a young bandleader got booed off stage because the anxious crowd wanted to see the headliners. He was consequently dropped from the tour. His name was Jimi Hendrix and he was opening for the Monkees.
* In the 1700's, an aspiring musician was so awkward on the violin and was often so busy working on his own compositions that he neglected to practice. His teachers felt that he would never succeed as a violinist or a composer. He eventually overcame the odds and made a name for himself as a composer, but he was once again hit with a roadblock…he went deaf. He didn't let this stop him either and he composed some beautiful music despite his handicap. His name was Ludwig van Beethoven.
* In 1913, a 30-year-old composer premiered his new ballet. The piece was met with such a negative reaction that riots erupted in the auditorium during the concert. A notable critic of the day described the work as "a laborious and puerile barbarity." The composer was Igor Stravinsky, the ballet was "The Rite of Spring" and both are now considered to be shining examples of 20th Century Music.
* This singer/songwriter auditioned unsuccessfully for "American Idol" twice and on her second try she even sang her original song, "Bubbly." Her name was Colbie Caillat and "Bubbly" eventually become a huge international hit. Ironically, Idol contestants Casey James, Katie Stevens, Katelyn Epperly, and Anne Marie Boskovich all did renditions of Colbie's hit in later seasons of the show…pretty funny.
* Here's another singer who auditioned for American Idol at the age of 17 but didn't even make it past the producers. Pretty brutal, right? Well, she is now a major star on the hit show "Glee". Her name is Amber Riley (aka Mercedes Jones).
* One more American Idol reject for you. This woman auditioned twice but she didn't even make it past the preliminary rounds. This means that she never even got to sing for the judges…she only serenaded the production assistants and the interns. So, she decided to form the band "Lady Antebellum" which has garnered her five Grammys so far…not bad! Her name is Hillary Scott.
* Here's a story about a Belgian Romani jazz guitarist who suffered through discrimination and survived Nazi-occupied France. He also burned his hand so badly in a caravan fire that he lost several fingers. He had to reteach himself how to play guitar and was forced to find his own voice and technique based on his physical limitations. He is still considered to be one of the best jazz guitarists that ever lived. His name is Django Reinhardt.
* This man was born in the U.K. He was one of five children and didn't excel in school because of his dyslexia. At the age of 15, he dropped out of school and became a construction site laborer. He had many jobs including being a plumber, toolmaker, slaughterhouse worker and a car factory employee. He was accused of burglarizing a clothing store, which landed him in prison since he couldn't afford to pay the fine. Eventually, he turned it all around and became a very famous singer and bandleader. His name was Ozzy Osbourne.
* This woman was fired from Dunkin' Donuts for squirting sauce at the customers. Her first band, "The Breakfast Club" was dropped by their record label. She picked herself up and decided to go solo. Her name was Madonna.
So, what's the moral of the story here? Don't let rejection and criticism get in your way. It's part of the music business and you must learn how to deal with it positively. Take what you can from a "bad" situation and move on. The only positive way to silence critics is to prove them wrong…or you can squirt sauce on them at Dunkin' Donuts (hey, it worked for Madonna).
-Adam Small

Adam's MMMC Artist Profile
Adam's Music Consulting & Management Page